Where to view the adoptables:
Petfinder Adopt-A-Pet Apply Online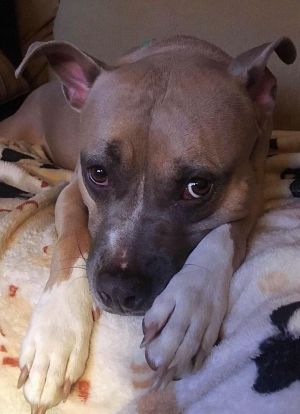 Pit Bull Terrier
Spayed/Neutered
Beautiful, majestic England is an adult, medium-sized female. This sweet girl is super social and loves to play as well as snuggle with other dogs and humans after a day of playing. England is fantastic with other dogs of all sizes, along with children of all sizes! Although she has been through quite a lot, she has a gentle, resilient spirit that should inspire us all. England had a family some time ago, but she was tragically stolen from them. After almost a year, her family had to move to a new county within Maryland, which unfortunately enforces breed-specific legislation (BSL) against pit bull type dogs. Miraculously, England was discovered in an abandoned warehouse and her family was notified that she had been found. Sadly, due to BSL, they could not provide a home for her any longer. The story is heartbreaking, but England's spirit has not been broken, regardless of what she went through while she was stolen and missing for nine long months. We believe that England's happy ending is just around the corner and we are going to do everything possible to help her find it. If you are interested in meeting England, please let us know! She can't wait to meet you! Please fill out an application at www.jasmineshouse.org
Adult, Female, Medium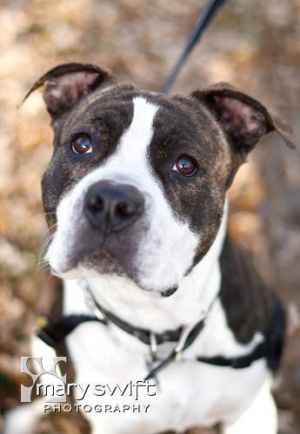 Pit Bull Terrier
Up-to-date with routine shots
Spayed/Neutered
Hi! My name is King. I am a medium/large mix with a very large personality. I am the perfect dog for a family with kids. I've lived with children under ten before, and my foster family has a three-year-old girl and a baby, whom I just love, too. My foster family says I am move-in ready. I am crate trained, house broken, and have nice manners. When you first meet me, expect to get lots of attention and excitement -- a big tail wagging all over the place. I wag it so hard, it hits my sides! But I'm very quick to settle down and relax, and I won't bother you if you don't want to snuggle every second of the day. I don't jump, which makes me perfect for meeting new people or being with children. I love to go for runs or walks, and hopefully you have a back yard so we can play fetch and run around together! I am a bit excited about other dogs, so I'll have to be introduced carefully, and you should probably avoid other dogs on walks or when you are traveling with me until we go through a training class together. Right now, I am working with a trainer and she says I am a very good boy. I love car rides and I'll happily sit in the seat next to you (or the back of the car) and look out the window. I don't bark a lot, except if I see a squirrel, and I am good on a leash. I will eat anything, but I am happy to leave your food alone if it is on the counter or table. If I get to hang out with you, I'll flop myself down on the floor (or couch and chair, if you let me!) and relax in froggy legs. I'm really looking for a loving family somewhere I can explore, play, and be part of your life. If this sounds like you, please fill out an application to meet me!
Adult, Male, Medium